AVL Systems – Head of Marketing 
"Although a good CRM, Salesforce was not "the best" CRM for our company. After extensive research, we decided to go with Project-SalesAchiever and I don't think that we could have made a better choice. Not only has Project- met ALL of our needs, but the staff at Project-SalesAchiever has constantly delivered excellent customer service. For companies that are project-based, such as those in the construction industry and ourselves, Project-SalesAchiever is the #1 CRM option available today. 
Project-SalesAchiever™ is specifically designed to manage the complex sales process around the Construction Industry. Whether Architect, Engineer, Contractor or Supplier, Project-SalesAchiever is both powerful and easy to use.
Project- gives companies in the Construction industry an affordable solution that is simple to use and quick to deploy.
It combines all the features you would expect from a powerful CRM package and also includes the powerful activity and project business lead management.
Project-SalesAchiever® takes company, contact, activity and project information and translates it to meaningful information, to empower your teams to begin and manage the business development process from rumor to order in the market place.
                       Access from anywhere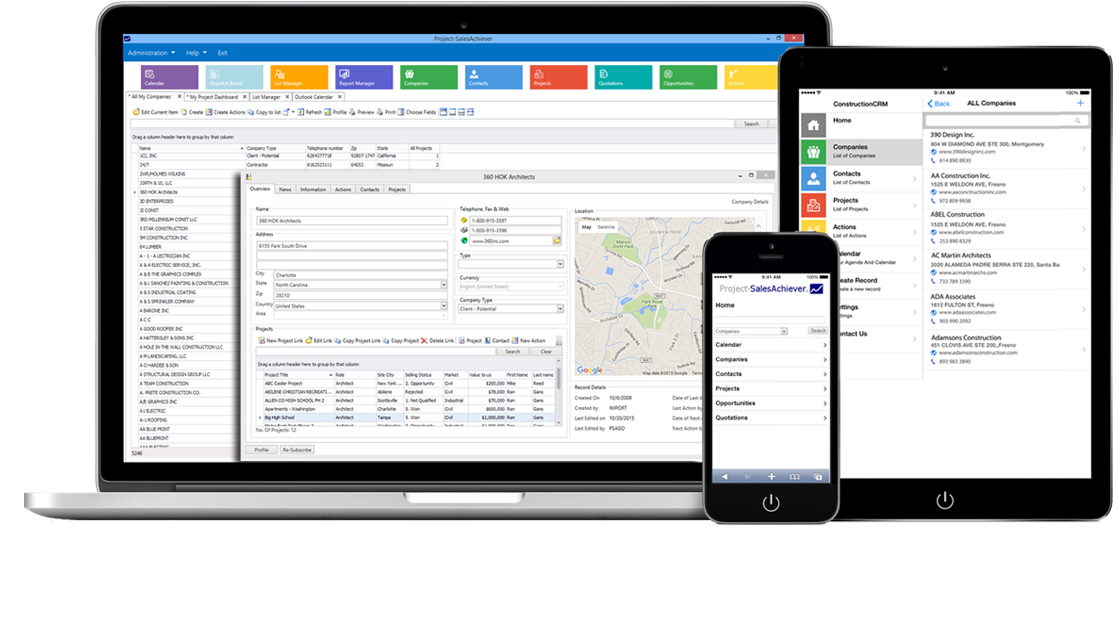 Your Choice

Outlook Hub – All Activities, from all devices in one Calendar
The Project-SalesAchiever Outlook Calendar Hub ensures every action in all your Project-SalesAchiever Calendars end up in your Outlook Calendar,and with all links preserved to Companies, Contacts, Projects, Quotes and Opportunities.